A couple of years ago many people would not believe that now they talk about a cordless nailer. There are a couple of manufacturers that produce cordless nailers, but Paslode is the best one so far. Even though you have to prepare for battery and fuel, but this item comes with very consistent performances. But now all eyes are pointing on Dewalt Cordless Brad Nailer when it comes to battery model. Let's review about this awesome cordless nailer.
When talking about nailers, Pneumatic nailers will always be the first choice. Even though you have to deal with the noise from the compressor and the cord, those nailers are reliable, fire fast and consistent. A couple of companies have been tried to lose the cord but they have failed to do that.
Here comes Paslode which is first company that successfully produces consistent and reliable nailer with no cord, but they have one problem that have to deal with the fuel cells.
Dewalt becomes the absolute choice when it comes to nailer with the battery only. One of the best product that you have to try is Dewalt 16 GA nailer. This product is very consistent and reliable with fast work. For those of you who use 16 GA nailer, you have to try 18 GA nailer which offers best rate of speed as well.
Dewalt Cordless Brad Nailer Features
Dewalt Brad Nailer comes with a lot of great features that you can enjoy using with appreciation. The nailer has been designed with a brushless motor which means you can use this item for longer time.
On the nailer you can switch between bump or sequential at the base. Two LED lights can be found on behind the fire action which perfectly lights up when you want to fire the fastener.
On the side you can find a dial that you can use to adjust the depth. If you want to see the estimation when you set the depth, you can find the visual. If you need protection when you deal with work or tool, you can find it on the side of the product. The tool will be protected from damage by the rubber strips in case you set it down accidentally on a surface that has been finished.
Sometimes it happens when the tool get to jam. But you do not have to worry as the jam can be removed while you do no t have to search for the tool. In case you need to clear obstruction you just have to pull the front down and complete access will be yours. You can find a belt clip on the side of the tool if you want to hang it somewhere when not in use.
The Dewalt Cordless Brad Nailer can be reset easily in the front in order the tool stalls. You do not have to worry if there are no tools at all. As you can find in many nailers, this product also comes with no-mar tip that can be easily removed.
Dewalt comes with the famous trigger that is very comfortable to operate which is completed by the rubberized grip.
Dewalt Cordless Brad Nailer LED Light
You can find two bright LED on this Dewalt Cordless Brad Nailer that shines on the tool both sides. Perfect general lighting will be provided by these LED around the tool and also the tool tip lighting. This lighting is the best feature that comes with this product after this unit has been tested.
Dewalt Cordless Brad Nailer Depth of Drive
You can find a knob in this Dewalt Cordless Brad Nailer that turns 7 times. And you can also use the thumb wheel easily because it is very large. It is also easy for you set the depth of the drive. And the most important thing is that this drive is very responsive. This is a very nice feature because this product was one of many units that have been tested that come with a visual depth indicator.
Dewalt Cordless Brad Nailer Performance
There are a couple of things that a cordless nailer offers. To reach tight spots, this product comes with smaller footprint nailer that can handle it. This is the perfect nailer if you need to deal with those tight spaces.
Dewalt Cordless Brad Nailer is very consistent because it comes with the fire with the best work of rate. There are a couple of other battery nailers with the consistency to shoot but suddenly it failed after the speed has been used.
It is easy for you to adjust the depth of the drive and know after a couple of nails have been driven, they still be sunk to the same depth and you do not have to adjust the depth.
This product comes with wide body but you cannot compare to other nailers which are operated by battery. You probably do not have to use this nailer if you need to hit baseboard which is located under the cabinets. If you have more spaces, you or your work will not be affected by the overall size.
Dewalt Cordless Brad Nailer Value
Dewalt Cordless Brad Nailer price is about $350 with 2Ah battery included, a bag and a charger. You will not regret to buy this product as you do not have to deal with air hose or fuel cell.
How Dewalt Cordless Brad Nailer Works
The center of the operation for this tool is a flywheel design. For those of you who know more about this kind of technology, the flywheel will be spin by the brushless motor at a high rate of RPM and the energy will be stored. When you press the trigger, the spinning flywheel will be contacted by the driver blade and the energy will be transferred to the blade. The nail will drive forward to be pushed by the blade. Return springs set to bring back the driver blade to the position where it belongs in the tool head. After that the bump guard or the trigger can be repeated by the cycle.
The perfect thing about this one is that the nailer is always on the go after the flywheel rotational speed normally spins up. It means that the blade will immediately reset and the fastener will shoot with no lag once with the trigger is fired.
The most exciting news about Dewalt Cordless Brad Nailer is that the contract can be depressed safety when in bump mode and it will depress down and the trigger will fire the tool on the surface of the work. Meanwhile, there is option that you can choose to hold trigger in the bump-fire mode and the tool can be punched rapidly.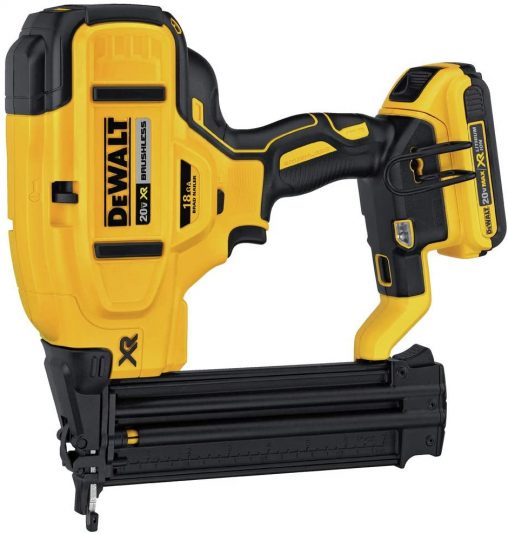 Capacity and Run-Time of Dewalt Cordless Brad Nailer
Up to 850 nails can be driven up per charge by this Dewalt Cordless Brad Nailer. 110 nails can be held by the straight magazine of the tool. This magazine comes with the yellow reload indicator in case you need to know to low quantities of the nail from the visual recognition.
You can lock out the tool when they are 11 brads remaining on the magazine. If you compare to other brad nailers out there, maybe they are too high. But many people like this Dewalt Cordless Brad Nailer to shoot all the brads and then the firing action can be locked in order to protect the tool.
Dewalt Cordless Brad Nailer Conclusion
Overall, this Dewalt Cordless Brad Nailer is one of the best units that you can find in terms of cordless nailers with no battery included. This nailer comes with perfect quality and you can use it or work with very easy. The best thing about this cordless nailer is that this product is speedy and consistent. For those of you who are looking for a cordless nailer to have in handy, this nailer is the perfect choice for you.
Besides that, Dewalt Cordless Brad Nailer comes with the straightforward design and mechanical switch that makes it very easy to operate. This brad nails can be consistently installed fast by this cordless brad nailer at the perfect depth in soft or hard woods and nail holes will be left very clean.
When you are looking for a cordless nailer, Dewalt Cordless Brad Nailer is the best choice as it is one othe best performers. It is recommended for you to choose the 16 GA because this unit performs very well in its class. But the 18 GA versions is no brainer as well. You can choose according to your taste and how you can operate this unit. These two versions are very consistent, easy to use and very powerful.
So what are you waiting for guys? When it comes for you to deal with the nail installation, this tool is powered by Lithium battery and equipped by brushless motor technology. Besides that with the weight of 5lbs 2 without the battery, this tool is very light to use and makes your work fast.