This article will give you an explanation about Dewalt Tough System Radio and Charger DWST08810. As the part of the modular storage system of Tough System, the company specifically designs this radio. The Tough System is really great transport system and tool storage. This tool is also solution for those of you work in tough outdoor situation.
These durable tool boxes have been matched and mixed by the system by using Tough System Workshop Racking System and Tough System DS Carrier.
But you have to consider that this radio charger is not for you who do not have experience using the Tough System. In terms of investment, this tool is not worth at all.
Researchers have studied that if you want to have better organization on your work, it is recommended for you to use modular organizers. This tool designs the Tough System in order to have better organization, more secure and better storage and easier mobility from one work to another.
For those of you who are seeking for a radio for a job site, it is hard for you to find one because there are a couple of power tool manufacturers that come with many types of sound system. There is always debate on that one to purchase the perfect system or choose one with the perfect sound system which is in the battery platform so it is not necessary to invest a new cordless tool.
Dewalt Tough System Radio and Charger DWST08810 Performances
You can find many job site radios on the store or online store, but this is one of the perfect sounding systems that you can get in terms of money and size. For those of you who like to enjoy local channel, this tool maybe is not the perfect fit for you because the reception is not really impressive.
For those of you who like to listen to music from your stream music or phone, this tool is the best one so far. This tool comes with front panel that makes you easy to handle the volume besides having a perfect sound system. There are also a couple of other features that you can find on this sound system.
Dewalt comes with an application that can be operated from your phone. The application is very easy to operate and very intuitive. With your phone, you can turn on or off the radio. Presets can be used for your radio stations. Besides that the volume can be controlled and you can enjoy your favorite songs from your phone.
Charger and Radio
The measurement of Dewalt Tough System Radio and Charger DWST08810 is 14-1/2 inch x 21-1/8 inch x 6-1/8 inch and the weight is almost 17-pound. This product is very heavy. This tool is made to be used to other Tough System Carrier cart or Tough System modules.
This tool is operated by using AC or DC power and Dewalt 20 and 12 volt batteries will also be charged. The rate of the battery charger is 1A output and you just have to spend 90 to 330 minutes to charge your battery.
According to many people who have used this tool say that the battery charger works under performance in order to operate this radio.
If you want to find the battery charging, it is located on the radio rear and you can access it through the Tough System cart. Many people also think that it is very confusing. The radio comes with Bluetooth connectivity that you can connect to any smartphone that can beenabled by Bluetooth. You can also connect this tool with any music device with the distance of 100 feet. There are no obstructions when the 100-foot rating is tried.
Dewalt Tough System Radio and Charger DWST08810 Sound Quality
This radio comes with the sound quality which is very cool, absolutely perfect! The radio produces clear sound through the Bluetooth or through the radio.
This perfect sound quality has been achieved by Dewalt by using assisted bass resonator, subwoofer, 4 Full ranger tweeters, digital sound processor, and 40 watt Class D amplifier.
The Features of Dewalt Tough System Radio and Charger DWST08810
At the top of the Dewalt Tough System Radio and Charger DWST08810, you find a compartment that has been sealed which you have to use both hands in order to open it. But it is very confusing to use. You can find the storage room inside the compartment where there is 24V/2A charging cord and also room which is perfect for smartphones and other units. You can also find 5V/1A USB Charger and 3.5 mm Aux Input in this compartment. But for those of you iPhone user, this port is not for you as it is underpowered. But for Android user, this port is cool to operate.
Dewalt Tough System Radio and Charger DWST08810 Durability
You do not have to worry because the radio charger safe from dust and water. You can also find clip and rubber seals on all of the compartments.
Dewalt Tough System Radio and Charger DWST08810 Radio Reception
The radio reception is very perfect unless you put it on your basement. Maybe one of the setbacks of the radio reception is that the preset numbers cannot be used in case you have to dial in your radio station except you must use the auto-scan or manual dial knob.
Dewalt Tough System Radio and Charger DWST08810 Improvements
There are two things that should be improved from this radio which are weight and size. And then, for those of you using Tough System cart the radio charger is very amazing to use but it is horrible if you operate it as small site radio. Many researchers also confuse why on/off power bottom should be held for too long.
Once again, the top storage compartment is confusing to close or open as it mentioned before. But the capability of cord storage is very good.
One thing that makes this tool also very good is the fact this tool comes with power cord which is very good when compare to phone charger cord. Dewalt offers extension cord that can be attached because this tool comes with recessed plug or pig tail cord.
Many users want this tool has better and faster USB output charging and battery charge. This tool probably needs to add a couple of outlet plugs.
Dewalt chargers come with battery lock, but battery compartments do not have one. That is why there is slop between charging port and battery terminals. It has been addressed by Dewalt by putting foam to the cover of the battery. But the foam becomes the weakest part of this tool even though it works perfectly clear.
A memory can be developed and compressed by that foam. But many researchers think that the radio will get soaked and the connection from the battery will lose which the radio channel memory will be wiped out.
Dewalt Tough System Radio and Charger DWST08810 Value
This tool is very efficient but the size, weight should be considered even though this tool is very easy to transport. For those of you who use remodeling operations, it is better for you to not to use Tough System because the radio charger will not work for you.
For those of you who are using Tough System, then this tool is the right choice for you as you just have to spend only $199.00.
For those of you who are interested in having perfect sound system on the work you do, Dewalt Tough System Radio and Charger DWST08810 is the perfect fit for you. But for those of you who willing to take Tough System from the Dewalt line, this tool is very recommended because it produces clear sounds and very easy to take from one spot to another. The plus thing is this tool can be stored on the Tough System.
Though you are not interested to invest in Dewalt line, but this tool is still very worth to buy. Meanwhile, you can compare this tool to a couple of other manufacturers for those of you who are looking for corded radio and think it is perfect for you to get extra battery platform.
Dewalt Tough System Radio and Charger DWST08810 Final Thoughts
This tool is one of the perfect radios on the market for job site. When it comes for you to compare the size of the tool and the quality of the sound, this tool is above the competitors. This tool also comes with great quality as you can guarantee that because it will take longest time to use.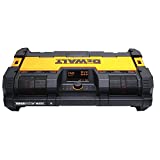 Dewalt Tough System Radio and Charger DWST08810 Overview
Researchers come with study for a couple of months. They have been studying on their house and they need one thing which is music for the background. They have tried many different brands of radios and a couple of manufacturers produce differences between them. Even though there are many differences among them, but they have also found a couple of problems that have bothered them with a radio like having to connect when they want to turn on the radio. For them they have to connected to Bluetooth and connecting every time.